Haven't heard of these yet? I'm not surprised, it's kind of a new trend and a really FUN one. Traditionally (at least for the last 20 years or so) expecting parents learn the gender of their new baby in a clinical atmosphere when the ultrasound tech reveals it to them. While certainly an event of great joy and excitement there's a better, more exciting way to learn it and share with family and friends.
Instead of having the ultrasound technician reveal the gender directly to you, you tell him or her you're having a Gender Reveal party and you'd like them to put a an ultrasound picture (with the gender clearly indicated on the picture) in a sealed envelope. Then, you take that to your local baker and explain to him or her that you're having a Gender Reveal party. It's a fairly new trend so your local bakery may have not heard of it yet. If they have, they know what to do. If they have not, you simply explain to them that you want your cake or cupcakes with plain vanilla or chocolate frosting but you want the cake itself (hidden on the inside) either pink or blue.
When you're ready at your gender reveal party you either slice the cake together or your guests bite into their cupcakes together so you all learn the gender at the same time! I've only recently begun to hear about these parties so I've created a few fun new invitations to customize. I'll be adding more styles very soon but here's what's in store today: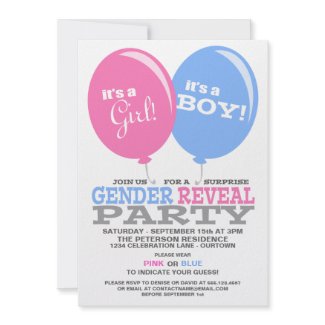 Balloons Gender Reveal Party Invitation
by
reflections06
Browse more
Baby Invitations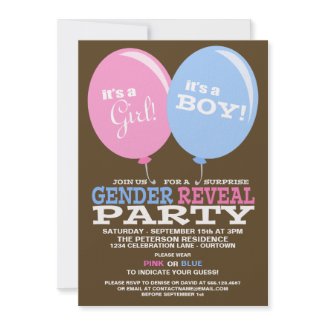 Balloons Gender Reveal Party Invitation
by
reflections06
Learn about
ordering invitations online
at Zazzle.
Cutie Owls Gender Reveal Party Invitation
by
reflections06
Create your own
custom party invitations online
at zazzle.com