Are you planning a Christmas cookie exchange this holiday season? If so, you already know how fun they are and how much everyone loves them. If no, it's a great idea to consider and just a great, relaxing time with family and friends enjoying the yummies of the season.
It's practically the most effortless party you'll ever host, since all you do is make a batch of your favorite Christmas cookies (and some coffee, tea or other beverage) and everyone attending also brings their favorite cookies for sharing. It's good to have copies of the recipe along with you as well since you know someone is going to taste your cookies (or bars or candies) and just demand that recipe!
To make the party even easier, there are lots of really great cookie swap or cookie exchange party invitations at zazzle ready for your personal touch. Here are a few of my own, and a few of my favorites from the other brilliant designers at zazzle: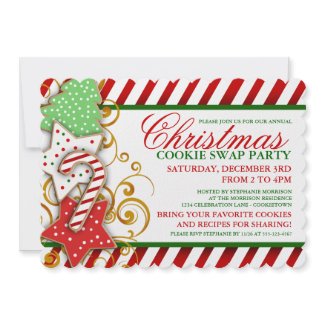 Christmas Cookie Swap Party Invitation
by
reflections06
Shop for
invitations
on zazzle.com
Christmas Cookie Exchange Party Invitation
by
reflections06
Create
customized invitations
at zazzle.com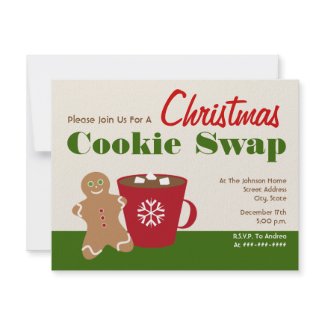 Hot Chocolate & Christmas Cookie Swap Party Invite
by
JillsPaperie
Make
invites and announcements
at zazzle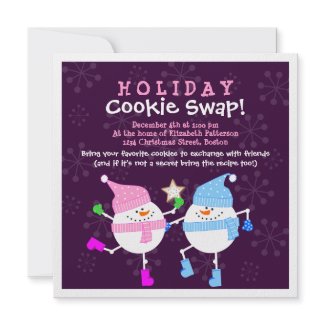 Holiday Cookie Swap Happy Snowmen Invitation
by
kat_parrella
Make a
customized invitation
on Zazzle
Christmas Cookies Holiday Party Invitations
by
berryberrysweet
design your own announcements
with zazzle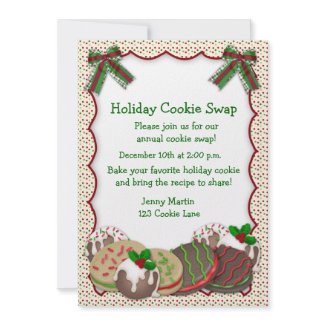 Holiday Cookie Swap Invitation
by
StarStock
Browse other
Christmas Invitations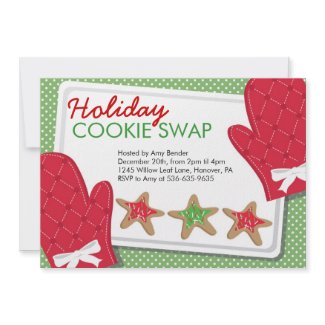 Christmas Party Cookie Exchange Invitations
by
NanandMimis
See other
Christmas Invitations
CLICK HERE TO SEE EVEN MORE GREAT COOKIE EXCHANGE CUSTOM INVITATIONS
Have a fantastically wonderful day!
Carla
-
Resident Mad Designer