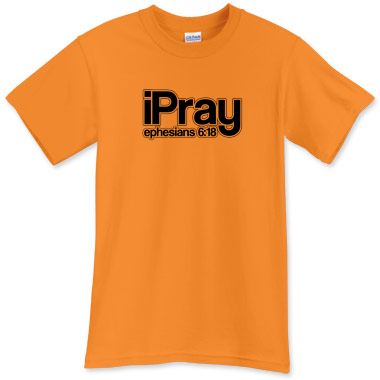 Over the last few months I've been looking for additional product suppliers to offer such things as black sleeveless tees, and kids long sleeved tees. Well, just let me tell you that I have found what I was looking for, AND THEN SOME, with printfection. Not only do they have great quality apparel, the printing process is absolutely amazing.
Before opening this shop to the public, I ordered a test tee and I was so impressed, I began building up the store there by adding some of my best selling designs on merch that my base store (cafepress) just doesn't stock at this time.
But then today I discovered something I've been looking for FOREVER, and that is ORANGE tees! Customers have been asking for orange almost as long as they have been asking for kids long sleeves and black sleeveless for men.
Well, now we've got them, and here's just one of the designs on the fantastic ORANGE TEES. Please do stay tuned, as we stock the new annex Reflections Christian Tees at printfection, and add lots more delicious orange tees! Click the tee to see all the other great colors too!

Have a fantastically wonderful day!
Carla - Resident Mad Designer